How Does Aircraft Paint Stripping Work?
Aircraft Paint Striping, Plastic Blast Media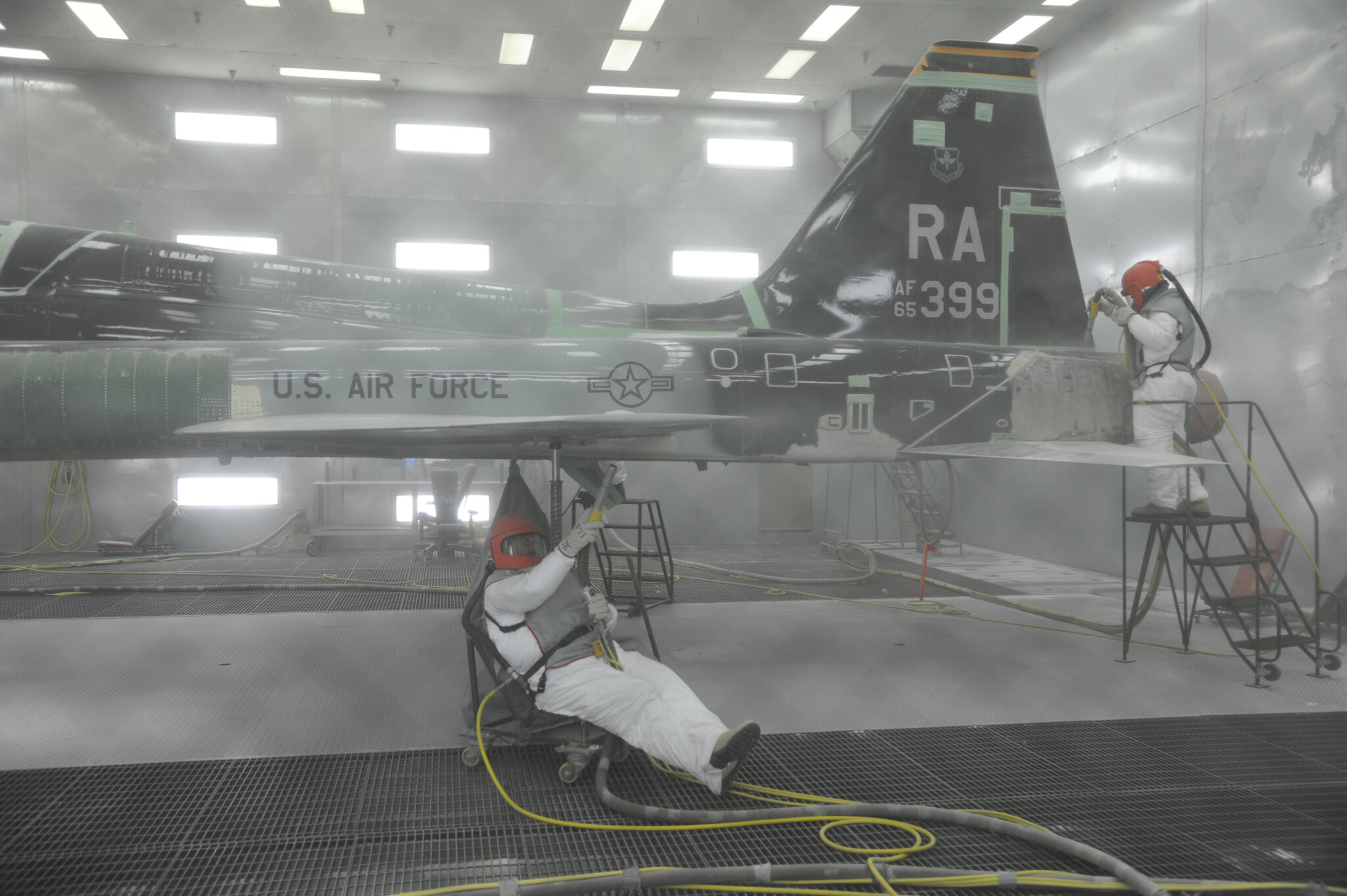 In the aviation field, aircraft paint stripping is a very precise job that needs an industry professional to complete it to ensure the best possible results. For many large companies in the aviation industry, full Maintenance, Repair, and Overhaul (MRO) departments are essential with well-trained staff and data-driven information used to create preventive maintenance schedules. Smaller airfields in charge of aircraft maintenance may not have full departments of staff, but they equally rely on trained maintenance professionals as part of their crew to decide when maintenance—proactive, preventive, or reactive—is required.
A common paint stripping method used by aviation maintenance professionals for the external skin of an aircraft is spraying abrasive particles through a pressurized nozzle. This is called abrasive blasting and it removes paint, rust, and other coatings to clean and polish a surface before repainting and has become a popular replacement to chemical stripping.
Deciding on the right media to use on the surface of an aircraft is the most important part of blast media when stripping paint. The substrate of a plane is usually aluminum or an alloy blend which has a softness to it. Therefore, the blast media needs to have a soft blend of materials, as well, so no particles embed in the surface and no damage is done. There also needs to be some hard material to get the job done yet do no harm.
What is the Best Media to Use for Airplane Paint Stripping?
Regardless of the size of an organization, one thing all maintenance people agree on is Opti-Blast's US manufactured plastic media blast is ideal to use for aircraft paint stripping.
Our MIL-SPEC approved abrasives are strong, durable, and won't leave embedded particles in the surface of parts when removing paint or coatings. All Air Force, Marine, Navy, Army, and Coast Guard branches of the military use our plastic blast media products, as well as leading commercial and private companies in the aviation industry.
When high stripping rates are required with maintaining a surface's integrity like with an aluminum aircraft skin, wheels and brakes, and for engine overhaul, our T-5 Acrylic plastic media is ideal. Our particle blend can perform multiple steps of the blasting process at once quickly, saving time and money. With a Barcol hardness of 46-54, it is also excellent for various aircraft components for powder coating removal from pultruded aluminum parts, thin fiberglass components and thin gauge metals.
As evidenced by our T-5 Acrylic Safety Data Sheet, our plastic blast media is safe for both maintenance professionals and the environment, with no free silica, no crystalline structures, no heavy metals, and no beryllium. Our plastic blend media can also be reused many times, is virtually dust-free, and can be recycled.
How Often Should Airplane Paint Stripping Be Done?
Lockheed Martin Corporation, an American aerospace, arms, defense, information security, and technology corporation, does aircraft paint stripping every three to five years on aircrafts. In these situations, the paint is removed fully from the aircraft before a new application is applied. This helps to minimize the need for repairs and ensures that the aircraft remains in good condition in between paint maintenance, creating a layer of protection. This type of protection is critical for other organizations with aircraft to maintain, as well, but the decision of how often to maintain or repair depends on many factors. Rely on the advice of maintenance professionals.
Simply the Best
For those who need aircraft paint stripping, finding the right blast media solution takes just a few minutes. Request a sample of one of our media products, contact us through our website, or give one of our Opti-Blast blast media experts a call today at 800-453-4510 to discuss the best options for your specific needs.