The Largest Aviation MRO Event in the World and Opti-Blast in Dallas, April 26-28, 2022
Aircraft Paint Striping, Conferences & Conventions, Plastic Blast Media, Uncategorized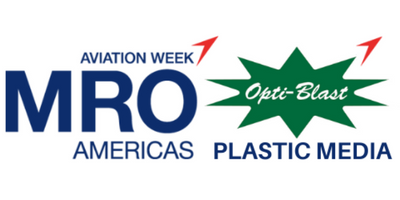 Opti-Blast Inc., long-time US manufacturer and supplier of MIL-SPEC approved plastic blast media to the aviation MRO market, will be part of the largest aviation MRO event in the world in Dallas, April 26-28, 2022. The focus of the MRO Americas 2022 – Accelerate! conference will be on empowering, advancing, and innovating the aftermarket and we are excited to be a part of this global gathering.
Those responsible for MRO in aerospace and aviation companies face some of the highest pressure in predictive maintenance and more. Using reliable products is essential for their success. Opti-Blast abrasive blasting and bead blast media has been key to MRO staff to eliminate and remove stubborn materials from a variety of surfaces. Our dependable, reusable plastic media blasting products, ideal for a variety of projects, whether it's aircraft paint stripping, mold cleaning, or anti-corrosion coating removal remains innovative and is manufactured in-house. Our Plastic Blast Media Specialists possess extensive industry experience and know-how, and continuously strive to deliver client-focused service.
Since 1995, aviation has been a primary market for our company and is one of the reasons we are excited to be a part of his event. Attendees can contact us prior to the show by calling 1-800-453-4510 or visit us at booth #718.