Visit Opti-Blast at the Largest Aviation MRO Event in the World April 18-20
Aircraft Paint Striping, Conferences & Conventions, Plastic Blast Media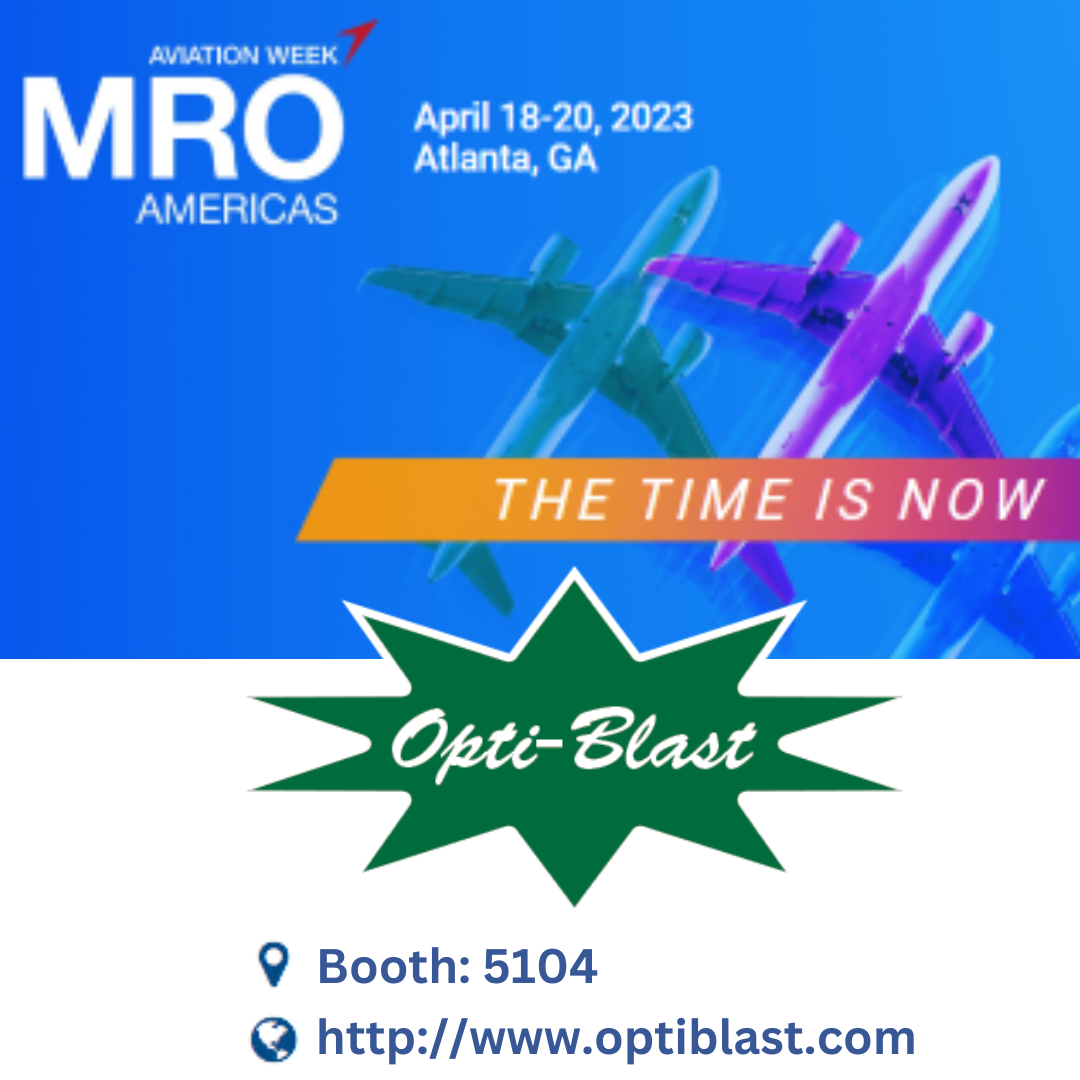 Opti-Blast, Inc. is proud to be an Exhibitor again at the largest aviation MRO event in the world, MRO Americas, April 18-20, in Atlanta, GA! Come visit your favorite high-performance plastic blast media manufacturers next week at Booth 5104 where we will be representing the following Categories:
Advanced Materials/Composites
Landing Gear/Wheels/Brakes
Media
Military Maintenance
Painting/Coatings
You may know us as the US manufacturer that has produced and delivered high-caliber plastic blast media for over 25 years. Because our blasting media is 100% made in the USA at our Texas facility, we can ensure consistency of quality. This is one of the many reasons we have MIL-SPEC approved plastic media and propriety blends of blast media that work well with all types of substrates and are highly sought by aviation MROs around the world.
Our plastic blast media is heavily used throughout the aviation industry and by aircraft enthusiasts. As this conference is specific to the aviation industry, it is perfect for bringing airlines and MRO stakeholders together to share experiences, best practices, challenges, and opportunities. The conference also includes two specific events: A&D Raw Materials and Manufacturing (ADRMM) taking place April 17-18 and the Military Aviation Logistics & Maintenance Symposium (MALMS) taking place April 19-20.
If you are a part of an MRO team or procurement, the MRO Americas Aviation conference is the perfect time to get to know our media experts and our bulk blast media varieties. Our media is used in a variety of applications, including anti-corrosion coating removal, aircraft paint stripping, mold cleaning, and more. At a minimum, consider getting a sample of our plastic blast media to try.
Now is the time to seek us out as an option for in-stock media that can also be reused and recycled! See you at the conference or give us a call at 800-453-4510 today!
#MROAM #MROAmericas